Worth the Wait; 2018 Honda Civic Type R Review
Blog
Jul 26th, 2017
For years, North America didn't get to drive the Holy Grail of Honda's front-wheel drive sports compacts: the legendary Civic Type R. Sure, we got the Si, but the top-of-the-line Civic was always out of reach for us.
Now, however, the tenth generation of the Civic has gone global. For the first time, North Americans can buy a Civic Type R from a local Honda dealership.
So what's the deal with this new Type R? Why should you care that you can finally drive/own this sports hatchback?
Let's start with the basics: under the hood of this 5-door Civic sits a turbocharged 2.0-litre four-cylinder engine that makes a whopping 306 horsepower. All this power is sent to the front wheels (and the front wheels only, no fancy AWD systems here!) via a good old-fashioned six-speed manual transmission. This sounds very old-school, but make no mistake, this Civic is ridiculously fast. Let's enumerate some numbers: 0-100 km/h is taken care of in 4.9 seconds and top speed is set at 273 km/h. Furthermore, when Honda took the preproduction car to the Nurburgring Nordschleife, it managed a time of 7:43:80; that was enough to beat the previous Type R by seven seconds AND set the record for the fastest FWD production vehicle. Ever! AT the Nurburgring! (Click hereto see how pro racer Daniel Morad liked driving it on the track.)

Still, the 2018 Honda Type R isn't only a straight-line bruiser: thanks to some clever engineering, Honda managed to make this Civic pretty nimble, too. It has 20-inch wheels with 245-section tires on them, which is a nice start. Engineers then modified the front-strut suspension to eliminate torque-steer. The result is pretty impressive: even under hard acceleration, the Type R tracks true and doesn't wander. In the corners, you have to remember that this is a FWD car, there is very little understeer coming from the front tires.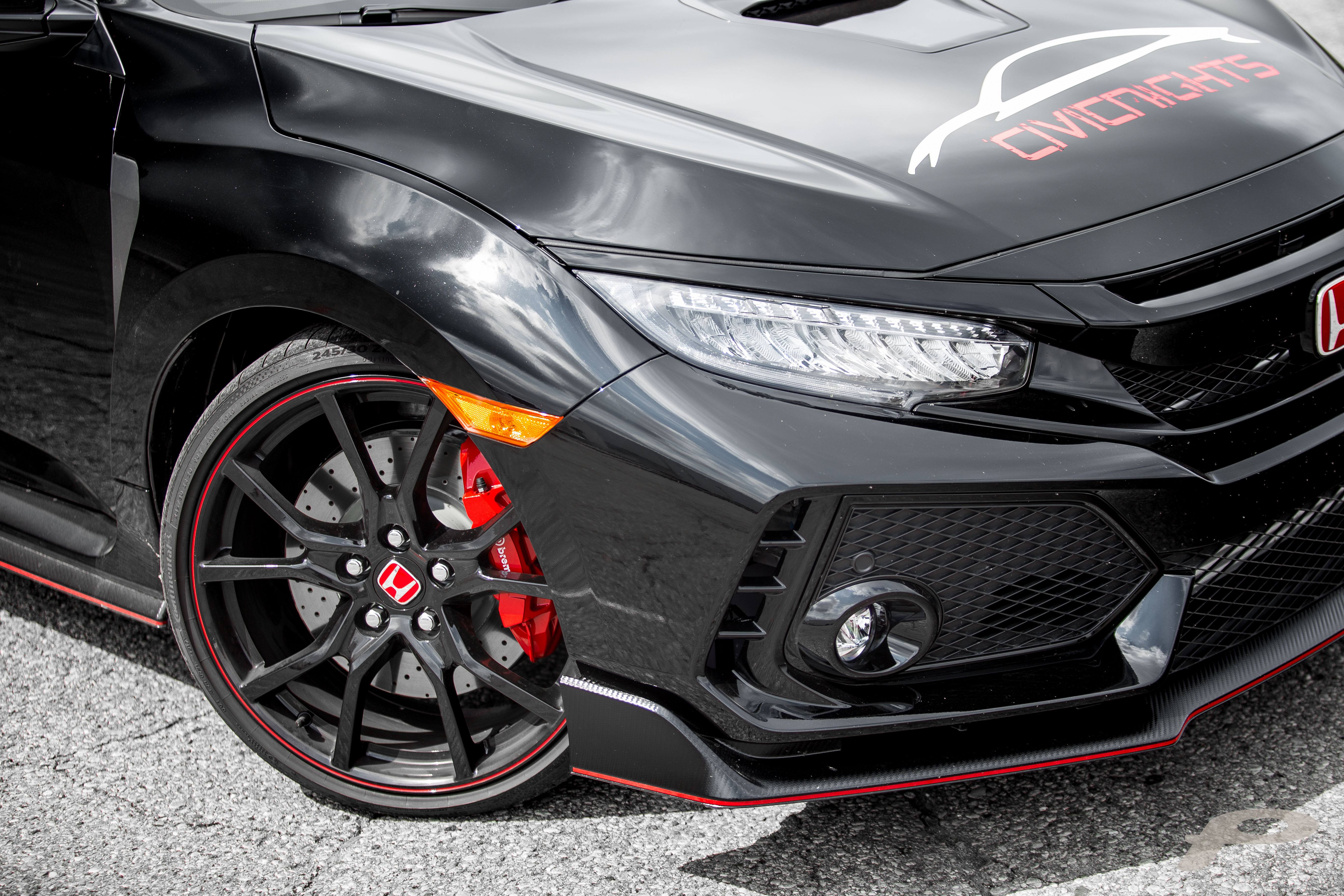 But the most impressive aspect of the Civic Type R isn't its speed or its on-track performance (it's a Type R, these facts go hand-in-hand), but just how good it is when you're NOT driving aggressively. This is a definitely a good thing since this will likely be a daily-driver for many who choose to spend the $40,890 to get one. The car is surprisingly comfortable over bumps, and its well-bolstered front seats aren't uncomfortable over long distances. Sure, it isn't an Accord, but you'd be surprised at how refined the little car is. The 12-speaker sound system, for one, is pretty impressive. And Honda's 7.0-inch tactile infotainment system can also be used via the steering-mounted controls to control the audio system.
This is the Type R's fourth iteration, but for us, it's our first time sampling this amazing machine. After seeing what the 2018 Honda Civic Type R can do both on and off the track, we can safely say that the wait was worth it.